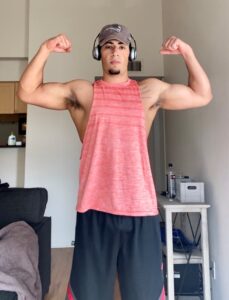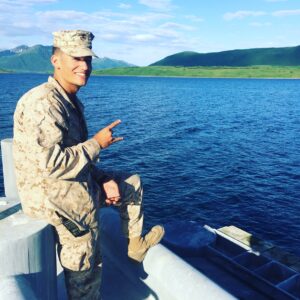 Employee Spotlight!
This month, we are shinning the brightest spotlight on Nick Desouza!  Nick started at Anytime Fitness in 2018 as a part time trainer at our Mashpee location.
He quickly showed the team his desire to get our members to  a healthier place and eventually worked his way up to Member Experience Manager at our newest location in East Bridgewater.
Nick has been a marine since 2015 and is on a 6 year contract that he will soon have to make the decision to extend or not.   Below are the responses from our Q&A session with Nick!
How has your military background helped with your position as a personal trainer?
My background as a marine helped me to grow and mature quickly to take on such a big role for Anytime Fitness.  The boot camp workouts also gave me a love and passion for fitness!
What is it like balancing personal training and your military work?
I report to camp one weekend per month and 2 weeks per year.  Anytime Fitness is flexible to accommodate and understands the important sacrifice of being a military personnel and appreciates my civic duties.
What do your clients mean to you?
My clients are everything to me!  It is much of the reason I love my job so much.  Seeing the excitement from them as they hit milestones and being part of that success story is the driving force.  I believes in them and want to help in every way!
What do you love about working for Anytime Fitness?
I love the community, the culture, the great environment.  There is great communication with my peers and we all have a great bond.
How do you plan to celebrate Veteran's Day?
This weekend is the Marine Corps Birthday and happens to be the weekend that I was at camp so I will celebrate with fellow brothers and sisters likely with a nice meal.  Veteran's Day I am working 7 AM-6 PM but no place I would rather be!
Nick Desouza Bio
Growing up playing sports like basketball, soccer and football I loved being a part of a team. After graduating Dennis – Yarmouth Regional High school in 2014 I joined the United States Marine Corps Reserves in early 2015. That is where I truly found my passion for fitness and helping others live a healthy lifestyle and achieve their goals. I've been a NASM certified personal trainer since May of 2018 and look to continue my education and get certified as a strength and conditioning coach as well. I have experience with one on one, small group training, and have taught boot camp classes as well. I look forward to spreading my passion and love for fitness each day with the members here at Anytime Fitness.  I am now a Corporal in the Marine Corps.
Marine corps achievement: National Defensive Medal, Good Conduct Medal, Navy Service Commendation award 
Personal training certifications : Nasm Certified, TRX Certified, Kettlebell Kings Level 1 Certified